Three Motions Passed at AGM
Posted on
November 2, 2023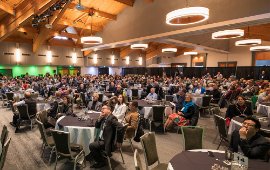 Over 300 registrants and guests gathered in person in Whistler and online for Engineers and Geoscientists BC's 104th Annual General Meeting on October 28. The meeting was the organization's first hybrid AGM, providing an opportunity for registrants to hear from the Board and senior staff on the organization's progress over the past year.
The meeting began with a cultural welcome from two members of the Squamish Lil'wat Cultural Centre, who welcomed delegates to the territories of the Squamish Nation and Lil'wat Nation. They shared a traditional language introduction and interpretation followed by an overview of the territory in which Whistler is situated, and closed with a powerful drum song.
Board Chair Mark Adams, P.Eng., and CEO Heidi Yang, P.Eng., FEC, FGC (Hon.), provided an update on the organization's activities, including operationalizing the Professional Governance Act, making changes to Continuing Education and Annual Reporting processes based on registrant feedback, and the creation of an independent advocacy body for engineering and geoscience. Board member Jessica Steeves, P.Eng., also presented a summary of the organization's audit process and financial standing.
Questions from registrants were addressed throughout the meeting, including how the organization is complying with the PGA, increasing voter turnout for Board elections, the organization's revenues and potential impacts to licensing fees in the future, and how the organization is managing impacts to programs, services, and volunteer engagement as a result of the creation of an advocacy body.
Registrants also heard from Kate Haines, Superintendent of the Office of the Superintendent of Professional Governance (OSPG), who presented a report on the OSPG's activities during its second year of operations.
Two motions were submitted in advance of the meeting and were also debated by registrants. The assembly voted to split Motion 1 into two separate parts prior to voting on that motion. The motions were moved by Kevin Preston, P.Eng., and seconded by Brett Pattrick, P.Eng.
MOTION 1a: That the Board consider past surpluses when setting future annual licensing fees. The motion was carried.
MOTION 1b: That the Board consider limiting future increases to no more than 2% per year. The motion was carried.
MOTION 2: That the Board consider that a larger seed fund be given to the new advocacy body to be spent on expenses of existing programs being transferred to it, plus a reasonable staffing budget for those programs. The motion was carried.
These motions, which are non-binding, will now go forward to the Board for consideration. An update will be provided to registrants on the results of that discussion in the coming months.
The full minutes of the AGM will be posted within 30 days on the AGM page. A recording of the AGM will also be made available in the Knowledge Centre.
Photo: David Buzzard